The Depot
For years, the old train station in Auburn, Alabama lay empty, a pink shell of its former glory. The last passenger train pulled through in 1970, and for thirty years it was used as real estate office before closing its doors in 2003. In 2010, it was listed on the Alabama Historical Commission's "Places in Peril". For over ten years, residents wondered what would become of the old depot, which held a special place in Auburn history.
The original train station was built in 1864, only to be destroyed later that year during the Rousseau Raid, when Union army Maj. Gen. Lovell Harrison Rousseau led a series of attacks on railroads in Georgia and Alabama. Union forces would burn the cross ties and twist the rails, leaving them mangled and useless and earning them the nickname "Sherman's neckties". The destruction brought the West Point and Montgomery Railroads to a screeching halt, severing transportation links between Selma and Atlanta for a month. During this time, Atlanta came under siege; without supplies carried by the railroads, the city fell to Union forces in September, 1864.
The Auburn train depot was rebuilt in 1870, as railroads were rapidly spreading across the country. At the height of railroad travel in the US during the Gilded Age, Auburn's station was bustling and the heart of one of Auburn University's long-lasting traditions. In 1896, four years after the university football team began playing, Auburn had its first home game against rival Georgia Tech (Georgia Tech had never beaten Auburn in football; the rivalry, which predates their football teams, stems instead from their respective engineering schools). When Auburn students learned that the Georgia Tech team was due to arrive by train in the early morning of game day, they greased 400 yards of track around the station with pig grease, lard, and soap.
In the morning, the train carrying the Georgia Tech team barrelled through Auburn, only stopping five miles later, halfway to neighboring Loachapoka; the team had to walk all the way back to Auburn, carrying all their things with them. Needless to say, Auburn won the game 45-0. From the prank, the Wreck Tech Pajama Parade was born, an annual (through 1987) march from campus up to the train station for a pep rally on Georgia Tech game day.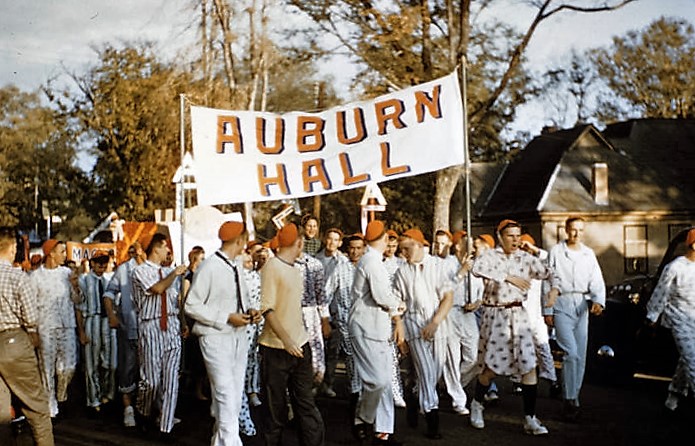 In 1904, the train depot was hit by lightning and incinerated. Auburn engineering graduate Ralph Dudley redesigned the depot, and for years it was used for passenger travel to Montgomery, New Orleans, Atlanta, Washington, DC, and New York, with eight trains stopping in Auburn each day. However, the Highway Act of 1956 and the construction of I-85 a year later made traveling by car easier than ever before. Over the next decade as air travel grew more popular, rail travel became less and less relevant. In 1970, the Auburn depot sold its last ticket.
In 2012, Matt and Jana Poirier moved from California to start their family near Jana's Auburn-based parents. They fell in love with the old depot, but it was over their budget, and the next-door gas station caused environmental concerns. The ended up opening their first restaurant, The Hound ("bacon and bourbon"), closer to campus, but the depot stuck with them.
After asking customers at The Hound what Auburn was missing, they kept getting the same answers: seafood and steak. Most restaurants in the area only occasionally had seafood on menu, most often fried-- the idea for a seafood restaurant took shape. "The seafood gives a lot more flexibility, and it gives us the opportunity to present a lot of different global styles and cuisines and different flavor profiles," said Matt Poirier.
In a contract with the Auburn Industrial Development Board, the Poiriers bought the old depot and began reconstruction with an Atlanta-based firm. During the renovation, workers revealed a 200-year-old heartwood pine subflooring, which Jana Poirier's father used to make the bar-top and hostess stand.
The menu changes daily (which I personally love in a restaurant), depending on what's available. The wine list is extensive and the cocktail menu was interesting. I didn't try anything because I didn't want to scandalize my grandmother, who doesn't approve of alcohol (welcome to Alabama!), but it was very tempting. Though a couple of the dishes were ever-so-slightly under seasoned, it was a wonderful meal.
Menu Sampling: Pink Peppercorn Scallops Yukon Mashed Potatoes, Broccolini, Grapefruit Chili Butter; Carolina Mountain Rainbow Trout Butternut Squash, Brussel Sprout Petals, Pecan Brown Butter
124 Mitcham Ave, Auburn, AL 36830
(334) 521-5177
Lunch: Tuesday - Friday | 11AM - 2PM
Dinner: Tuesday - Thursday | 5PM - 9PM
Friday and Saturday | 5PM - 10PM
Brunch: Saturday and Sunday | 10AM - 2PM
Happy Hour: Tuesday - Thursday: 4pm-6pm (Located at the Bar)
Sources
Depot restaurants on track to open this month in Auburn, oanow.com.
The Depot: Auburn's restoration station, HomeGrown.
Rousseau's Raid, Encyclopedia of Alabama.
Auburn historic train depot to be purchased and transformed by city, WTVM.
USA Today: 1896 Auburn prank on Georgia Tech second best in college sports history, USA Today.
Auburn Football Seasons, AuburnTigers.com.
A rivalry rekindled: Auburn, Georgia Tech meet again, ESPN.
Restaurant coming to Auburn Train Depot, The Auburn Villager.