District Winery
For my husband's 30th birthday, we agonized over where to go. Our list included Hazel, Tail Up Goat, Kith & Kin, Whaleys, and The Dabney-- all places neither of us had ever been and are dying to try. Eventually we settled on Ana at District Winery in DC, a new addition to The Yards neighborhood along the Anacostia River.
District Winery is the second urban winery from co-owners Brian Leventhal and John Stires, who left their corporate jobs in 2010 to found Brooklyn Winery in Williamsburg. Their DC location is twice as big; production, a tasting bar, the restaurant, an event space, and an expansive terrace are spread out over three floors.
Ana, named for the Anacostia River, is on the ground floor with indoor and outdoor seating. It's a stunning sight in the evening as the glass building glows. It's lively and elegant without feeling stuffy or intimidating. The menu is incredible, which was why we chose this place; executive chef Michael Gordon and chef de cuisine Benjamin Lambert come from the Mandarin Oriental New York and Restaurant Nora, respectively, and their exciting New American menu is full of tempting options.
Menu Sampling: Crab Beignets Maryland crab, roasted carrots, Indian romesco; Grilled Octopus pineapple aquachile, dhana dal, mint; Pig Shoulder Confit pickled shrimp, rice grits, husk cherries, XO emulsion; Rutabaga Pierogi lamb bacon, rutabaga sauerkraut, hard cider; Charred Broccoli Steak hen of the woods, parsnip aligot, truffle-pistachio vinaigrette; Celery Root & Grayson Cappelletti rabbit sausage, pear, cultured butter, onion petals, basil; Pan Roasted Atlantic Cod chanterelle ravioli, chanterelle dashi, celeriac; Pastrami Spiced Monkfish sesame potatoes, charred cabbage, carrot-mustard jus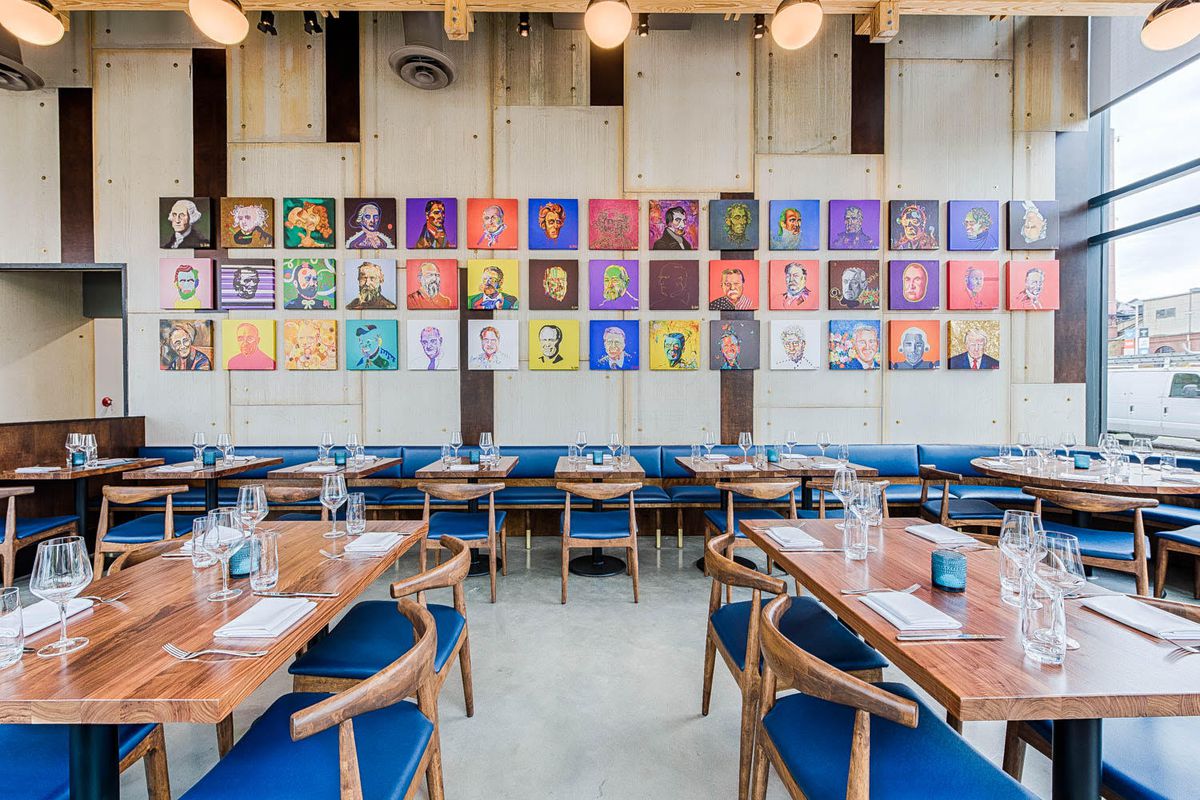 385 Water St SE, Washington, DC 20003
(202) 484-9210
Monday to Thursday 11:30am to 2:30 pm, 5 pm to 10:00 pm
Friday 11:30 am to 2:30 pm, 5 pm to 10:30 pm
Saturday 11 am to 2:30 pm, 5 pm to 10:30 pm
Sunday 11 am to 2:30 pm, 5 pm to 9 pm